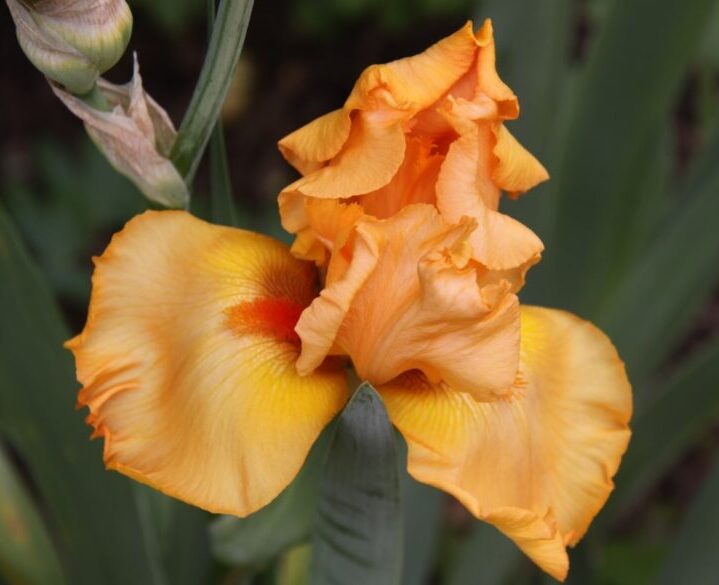 Iris in Bloom!
Iris season is upon us! You can find over 30 different varieties throughout the Arboretum during spring and summer. Irises can start blooming as early as March or April, although the majority will flower from mid-May to June. Certain species of iris possess remontancy, which means they may flower more than once during the growing season. Some of our current favorites in bloom throughout the gardens are Iris × germanica (tall bearded iris), Iris cristata (dwarf crested iris), and Iris sibirica (Siberian iris).
The tall bearded iris (such as Iris 'Orange Harvest') is featured in the Rose and Fragrance Garden with numerous hybrid cultivars producing an exciting variety of bloom colors including yellow, orange, purple, pink, and white. These showy, fragrant flowers are accompanied by narrow, linear leaves that typically grow to heights of 27 to 40 inches. The name bearded comes from the bushy "beard" that is easily identified in the middle of each fall.
The dwarf crested iris (such as Iris cristata 'Powder Blue Giant') is noticeably smaller than the tall bearded iris, blooming earlier and reaching a maximum height of only 8 inches. This species has pale blue flowers with golden, crested ridges that bloom on short stems and can be found near the Overlook Pavilion and in the children's garden.
The Siberian iris (such as Iris sibirica 'Caesar's Brother') is of hybrid origin, derived from two blue-flowered Asian species, Iris sibirica × Iris sanguinea. Take a trip to the Oasis Garden or the North Terrace to witness these deep purple beardless flowers before they are gone!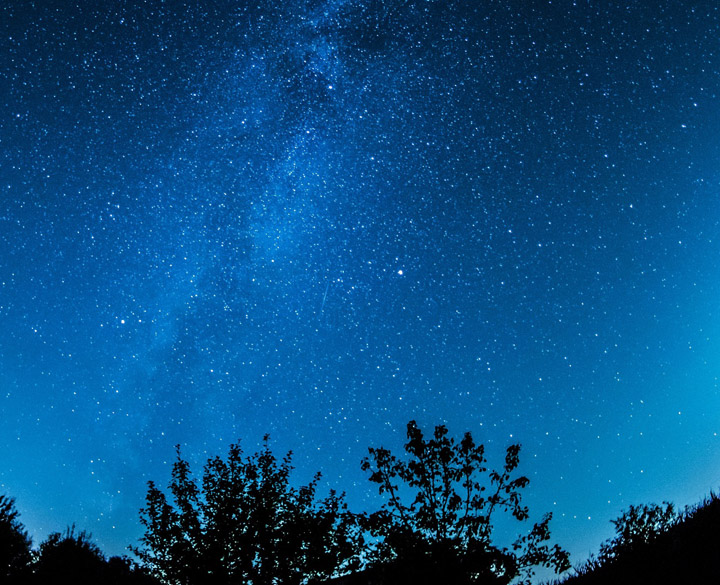 Stories Under the Sky Returns
What could be better than enjoying a story under the stars in the Arboretum?
Researchers from Penn State's Department of Anthropology will be returning to the children's garden this summer to share cosmos-themed stories from cultures around the world, with new stories at every event. If conditions are right and visibility is good, stories will be followed by stargazing. Last year, visitors spotted astronomical phenomena including the International Space Station speeding across the sky, the moons of Jupiter, and a great view of the craters of Earth's moon. Story-telling events will fall on the following Friday evenings: May 26 (8:30–10:00 p.m.), June 30 (8:30–10:00 p.m.), July 28 (8:30–10:00 p.m.), August 25 (8:00–9:30 p.m.), and September 29 (7:00–8:30 p.m.). In case of rain, the events will be rescheduled for the following evening (Saturday).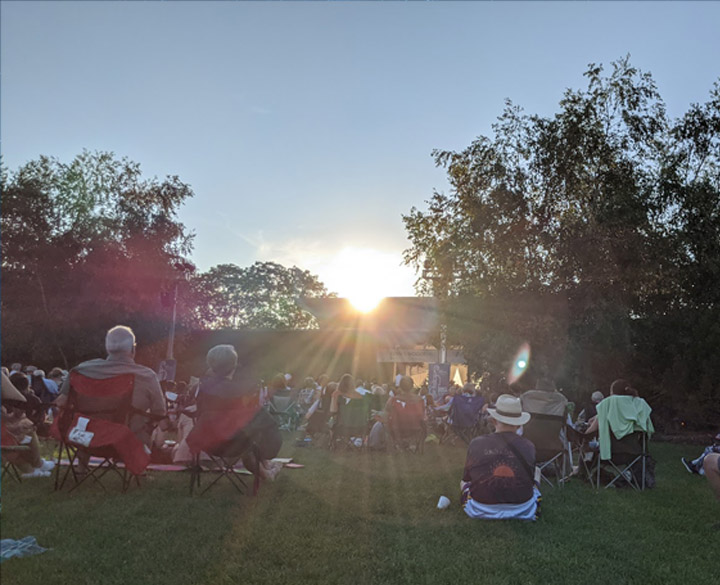 Music in the Gardens
Classical music presented by The Penn's Woods Music Festival will return to the Arboretum on the afternoon of Sunday, June 11 (rain date: Monday, June 12). We recommend arriving a little before 1:00 p.m. Park your blanket or lawn chairs on the central lawn and enjoy a stroll around the gardens, where musicians will be performing from 1:00 to 2:00 p.m. At 2:00, return to your space on the lawn for the main concert. June 11 also marks the launch of 200 Acres, an immersive and site-specific soundwalk through the Penn State campus and the Arboretum about how we shape, and are shaped by, the nature around us. A great way to bridge the afternoon's events with dinner downtown!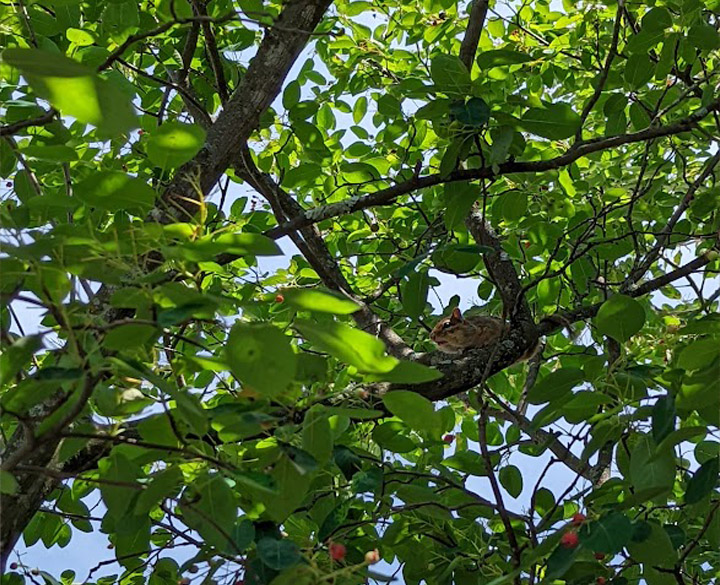 Fruit Buffet Underway
If you stop by the Overlook Pavilion or the children's garden, take a moment to watch the antics of the wildlife in the serviceberry (Amelanchier canadensis) trees! You're likely to see catbirds, robins, squirrels, and chipmunks up in the branches, gorging themselves on ripe bluish-purple fruit.
If you are looking for a wildlife-friendly tree for your yard, the small native serviceberries (also known as juneberries, shadblow, shadbush, saskatoon, and sarvisberries) are an excellent choice. They bear delicate white blossoms in early spring and are generally tidy yard trees: the small fruits are almost always carried away by birds and small mammals before they can fall to the ground!