The American Chestnut Foundation (TACF)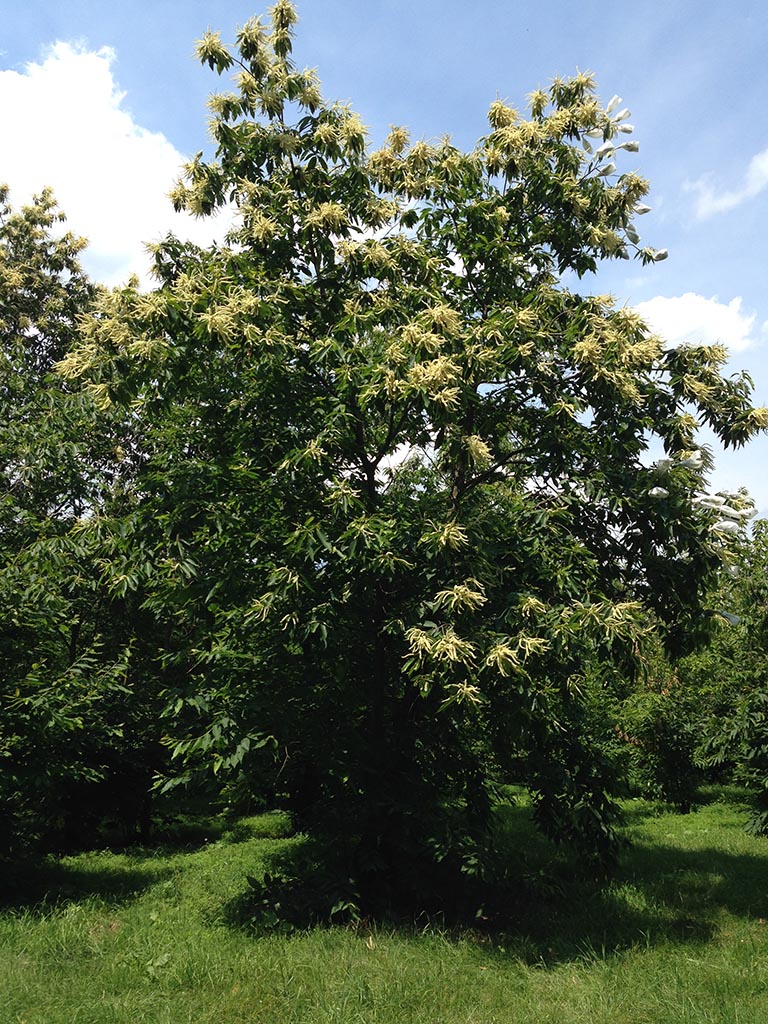 The Arboretum at Penn State is a partner with The American Chestnut Foundation (TACF) in its program to breed a variety of American chestnut (Castanea dentata) resistant to chestnut blight, a deadly fungal disease introduced from Asia at the turn of the 20th century. Lacking natural resistance to the blight, American chestnut populations were decimated across the species' entire 300,000-square-mile range. American chestnut was especially common in Pennsylvania, where it was one of the most abundant trees.
Breeding a blight-resistant variety requires the use of genes from one of the Asian chestnuts that have resistance. The TACF breeding orchard in the Arboretum contains 5th-generation trees and is still in development. Ultimately, the Arboretum orchard will yield seedlings with elevated levels of resistance created specifically for Pennsylvania, and these seedlings will be available for distribution. The Pennsylvania program is the most advanced blight-resistance breeding program in the country, other than the central TACF program in southwestern Virginia.
To learn more about the American chestnut breeding project at Penn State, contact Sara Fitzsimmons, TACF Chief Conservation Officer and North Central Regional Science Coordinator, at sara.fitzsimmons@acf.org.
The Arboretum at Penn State welcomes researchers, including faculty and students, to use our landscapes and collections for study purposes. If you would like to use the Arboretum as a research site, please complete and submit our Research Request Form and we will contact you to discuss your project.
Penn State Center for Pollinator Research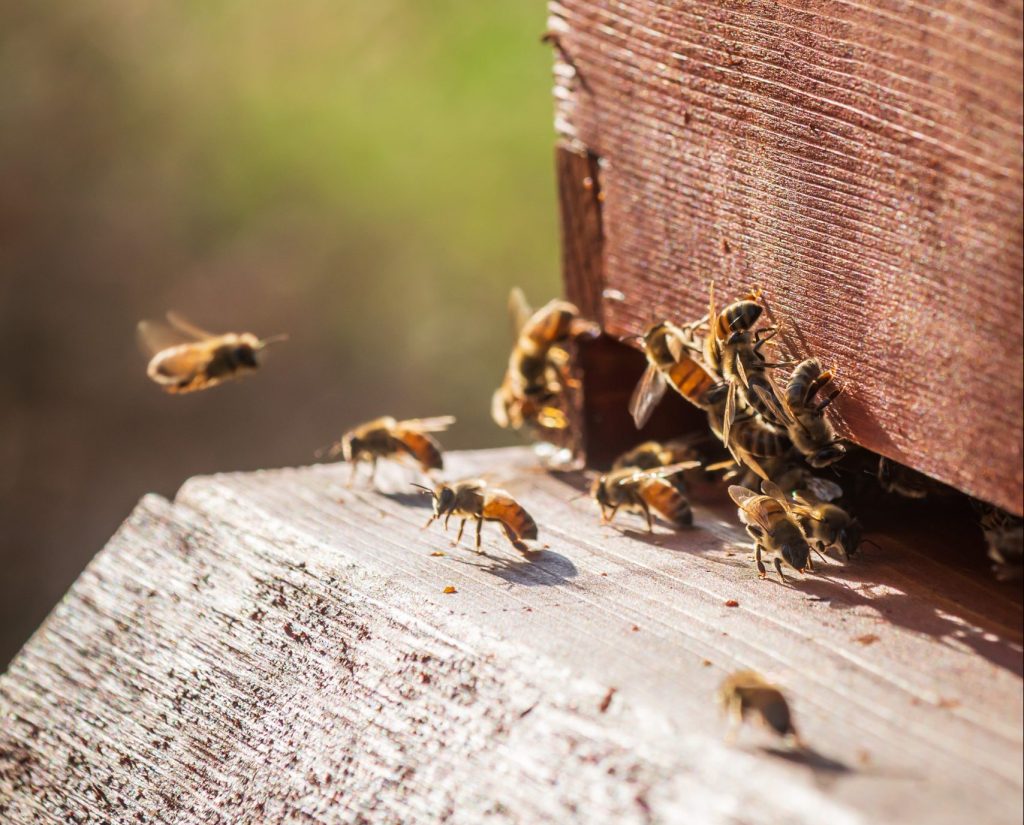 The Center for Pollinator Research (CPR) conducts research and provides educational programs in the Arboretum's Pollinator and Bird Garden. By better understanding the secret lives of pollinators and the ways in which they interact with their environment, the Center develops best practices for improving pollinator health and conservation.
The diversity of plant species and cultivars (more than 400) and the different habitats available allow CPR members to conduct detailed studies to determine which plant species best support diverse pollinator species, how the design of pollinator gardens and habitats influence pollinator populations, and how weather and microclimate influence both plants and pollinators. Center members use integrative techniques to answer these questions, including observation studies, DNA metabarcoding, and automated computer monitoring of pollinator activity at specific flowers, nests, and colonies.
In addition to research projects, the Center provides an on-site education specialist to help college students, grade school educators, growers, and community members learn about pollinator nutrition, development, conservation, and pollination services.
PopUp Poplar Gardens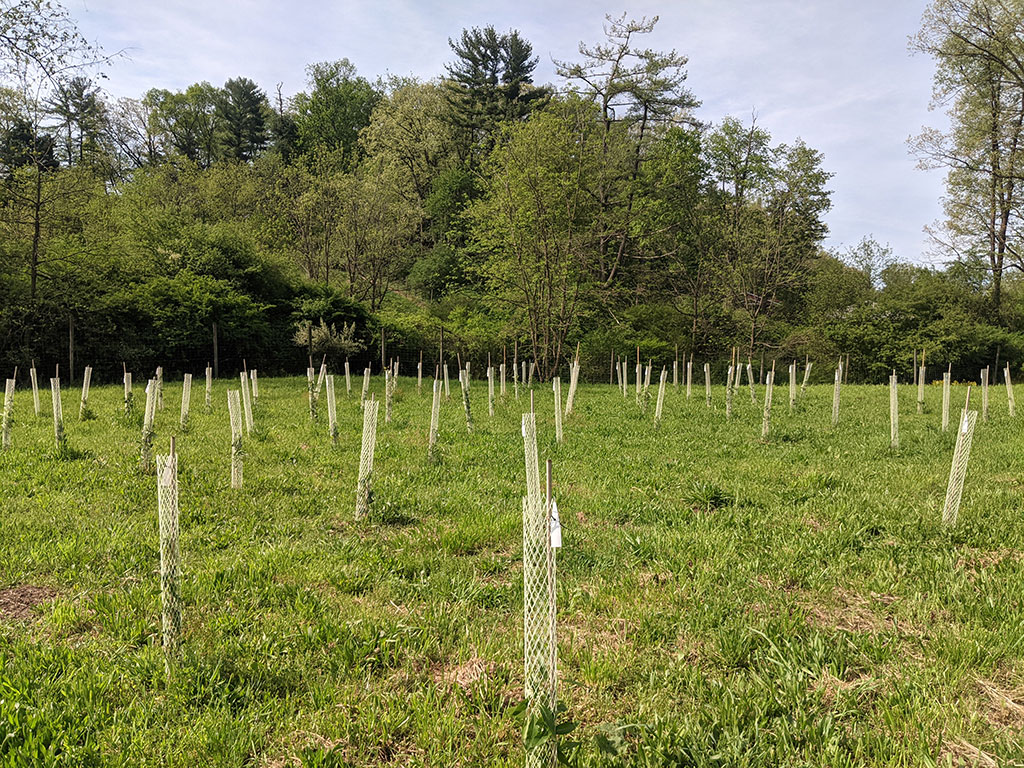 The Arboretum is also a site for the PopUp Poplar Gardens research project, a multi-institutional collaboration between 18 arboreta and universities across the United States funded by the National Science Foundation. The project studies climate adaptation and hybridization in poplar species, focusing on variation across natural hybrid zones between black cottonwood (Populus trichocarpa) and balsam poplar (Populus balsamifera).
For more information about the PopUp Poplar Gardens study, contact Jill Hamilton, Director of Penn State's Schatz Center for Tree Molecular Genetics and Joseph E. Ibberson Chair of Silvicultural Research in Pennsylvania in the College of Agricultural Sciences, at jill.hamilton@psu.edu.