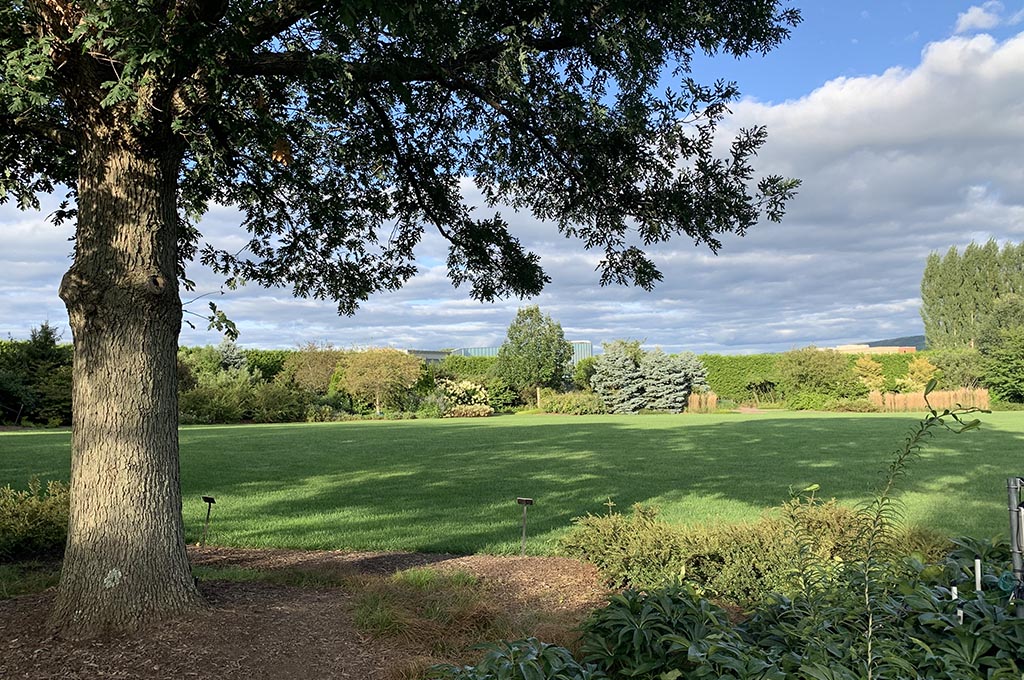 Hours
The Arboretum is open every day from dawn until dusk.
Admission
There is no charge for admission to the H.O. Smith Botanic Gardens or the Arboretum land beyond the gardens.
Directions to the H.O. Smith Botanic Gardens
Directions to Rail Trail and Natural Lands
There are no public roads through the larger Arboretum, but the woodlands, fields, and Bellefonte Central Rail Trail are accessible by foot or bicycle from several adjacent neighborhoods.
Parking
Passenger Vehicles/ADA Parking
Visitor parking is available in the Lewis Katz Building lot, just across Bigler Road from the Arboretum. There are several spaces designated for ADA parking near the Bigler Road entrance to this lot.
Over-Sized Vehicles (buses, RVs, limousines)
On weekdays, over-sized vehicles such as school buses, motor coaches, and recreational vehicles must be parked in the Porter North parking lot on Porter Road near Beaver Stadium. Passengers may disembark in the Katz lot before drivers move the vehicle to the Porter North lot. To get to the Porter North parking lot from the Lewis Katz parking lot, head west toward Bigler Road. Turn left onto Bigler Road. At the intersection with E. Park Avenue., turn left. Proceed to the second traffic light and turn right onto Porter Road. The Porter North parking lot will be on your left in the first block from the intersection.
Parking fees ($5/space) apply between 7:00 a.m. and 5:00 p.m. on weekdays. There are two options in the Porter North lot. If the driver stays with the vehicle, there will be no charge for educational trips. If the driver leaves the vehicle, a fee based on the number of spaces occupied by the vehicle will be assessed. A school bus is generally $20.00 because most buses use 4 spaces at $5.00 per space, but the charge could be less for a shorter vehicle. Payment may be made using the ParkMobile app or the in-lot pay station.
View a map showing the route from the Katz parking lot to the Porter North parking lot (PDF).