Pawpaw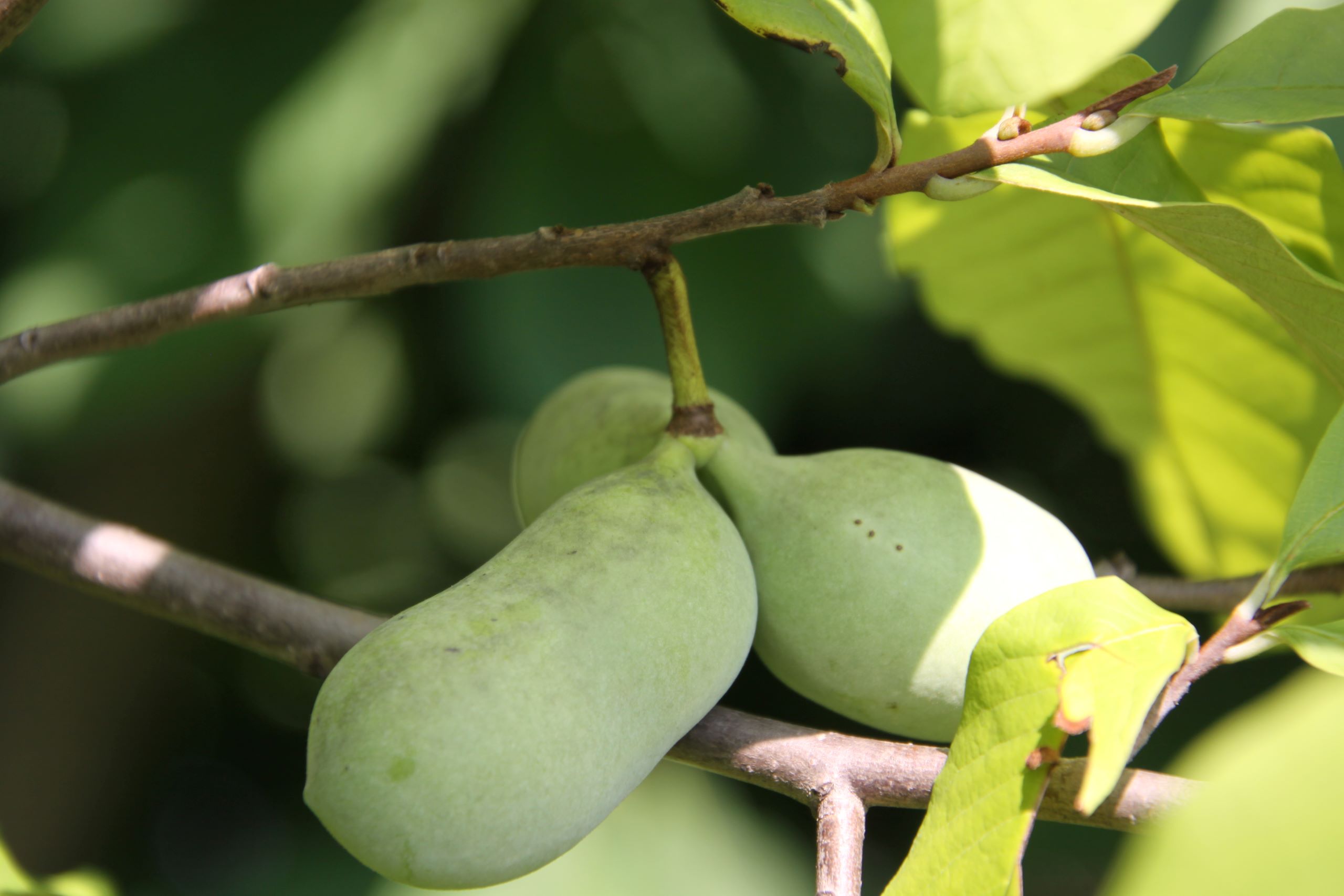 Come enjoy a fall treat in the form of a pawpaw! The pawpaw tree (Asimina triloba) is native to Pennsylvania and there are 31 specimens that can be found at the Arboretum in the Pollinator and Bird Garden, Marsh Meadow, and the Children's Garden. They can grow 15 to 30 feet tall and are tolerant to wet soils, allowing them to thrive in typical Pennsylvania weather.
These trees are unique because they produce the largest edible fruit native to North America. After their cup-shaped purple flowers bloom in the spring, they'll produce oblong, green fruits that start to ripen in late summer but peak in early fall. These fruits look like small green potatoes, but they are fleshy and sweet. Their flavor is typically compared to the flavor of banana with hints of mango, vanilla, and citrus.
Pawpaw can be eaten raw or used to make pies and desserts (ice cream seems to be a favorite!), but people aren't the only ones who love them. Raccoons, squirrels, and other wildlife enjoy these fruits, too. Be sure to visit the Children's Garden for a Harvest Garden Tasting event to try a pawpaw fruit before the critters beat you to it!
Asters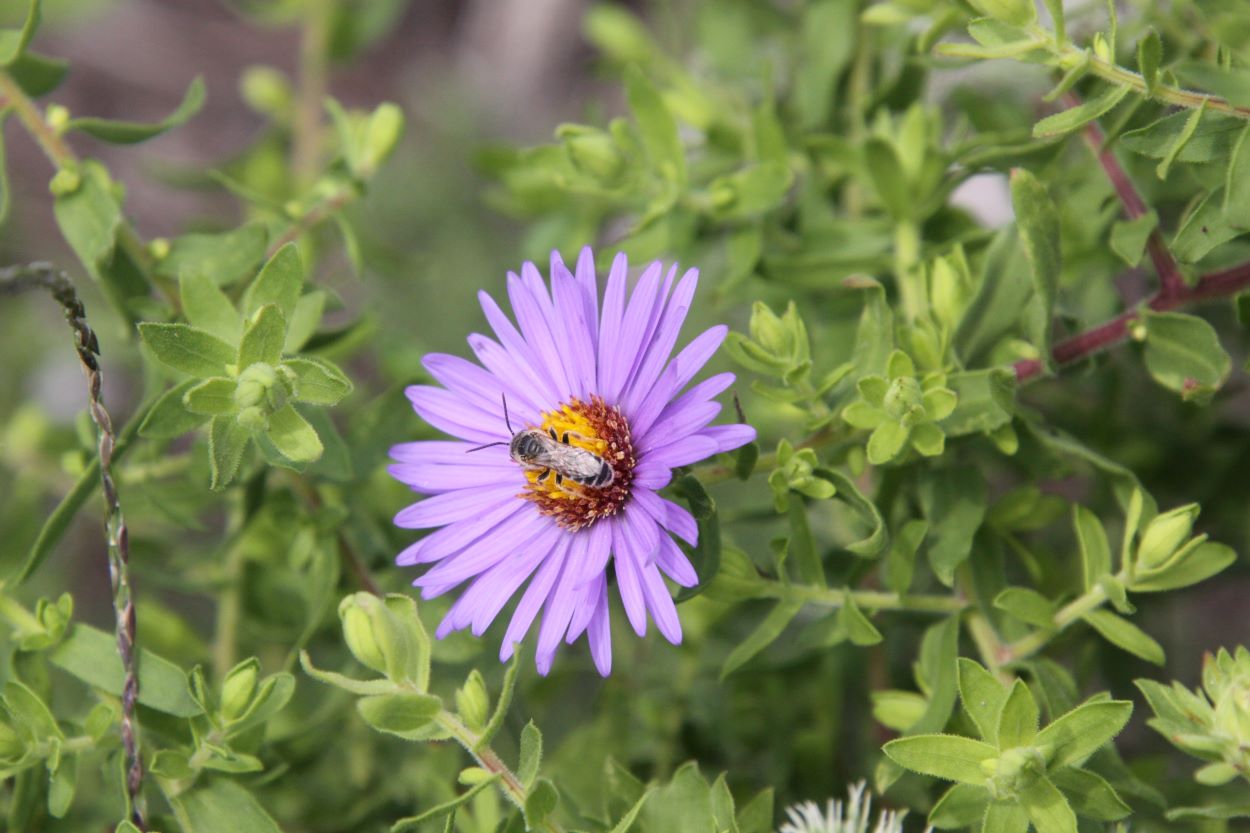 Asters are in full bloom at the Arboretum and are brightening up our gardens this fall with many diverse and attractive varieties. Asters are a member of the Asteraceae family and are recognizable by their daisy-like flowers reminiscent of a star shape. Plants in the Aster genus are restricted to those native to Europe and Asia. Asters native to North America belong to two genera, Symphyotrichum and Eurybia. Throughout the Arboretum, you can find over 4,000 specimens of asters representative of all three genera, comprising of over 18 different species and cultivars, with some notable collection highlights below.
Bushy and compact, the heath asters (Symphyotrichum ericoides), found in the Pollinator and Bird Garden, can grow to be 1 to 3 feet tall. Racemes (one-sided dense sprays) feature white, daisy-like flowers with yellow centers. Heath asters attract butterflies and typically bloom in late summer to early fall. The heath aster variety 'Snow Flurry' differs from the typical heath aster because they are shorter; they grow 4 to 6 inches tall and spread along the ground to form a dense foliage mat. Their flowers are also white but typically bloom later in the fall from September to October and are prevalent in the Pollinator and Bird Garden.
Blue wood asters (Symphyotrichum cordifolium), a stout plant that grows on smooth upright-arching stems, are located in the Pollinator and Bird Garden. These stems generally reach 2 to 5 feet tall. Pale- to rich-blue daisy-like asters densely adorn panicles atop the stems. The flowers attract butterflies and bloom in late summer heading into early fall.
Another butterfly-attracting aster, New England aster (Symphyotrichum novae-angliae), blooms from August to September and can be found at the Overlook Pavilion. Daisy-like flowers are generally deep pink-purple and are surrounded by rough, hairy leaves. 'Purple Dome' is another variety of New England aster. They also can grow 2 feet high, but their shorter petals are a deep royal purple that brighten up our Pollinator and Bird Garden.
Two attractive varieties of aromatic aster (Symphyotrichum oblongifolium), pictured above, sweeten the Pollinator and Bird Garden. 'October Skies'  features a compact plant with small, deep-blue flowers. When crushed, their blue-green leaves produce fragrance. 'Raydon's Favorite' show off cheerful violet-blue flowers and also have blue-green leaves that are fragrant when crushed.
Bees aren't the only fuzzy ones in the Pollinator and Bird Garden. Frost aster (Symphyotrichum pilosum) stems and leaves are extremely hairy, hence their other common name, hairy aster. Flowers rise in branching clusters and bloom from August to October. They emerge white and turn reddish-purple with age.
White wood aster (Eurybia divaricata) brightens up our Pollinator and Bird Garden, Children's Garden, and Hartley Wood. They are a sprawling plant that grows up to 2 feet tall. Tiny but abundant white flowers are arrange in flat-topped clusters. They bloom from August to September and can be distinguished by their unique heart-shaped leaves.
Come out explore this diverse pollinator-friendly perennial this fall. Asters provide a welcome pop of color into October and can even persist after the first few frosts!
Hibiscus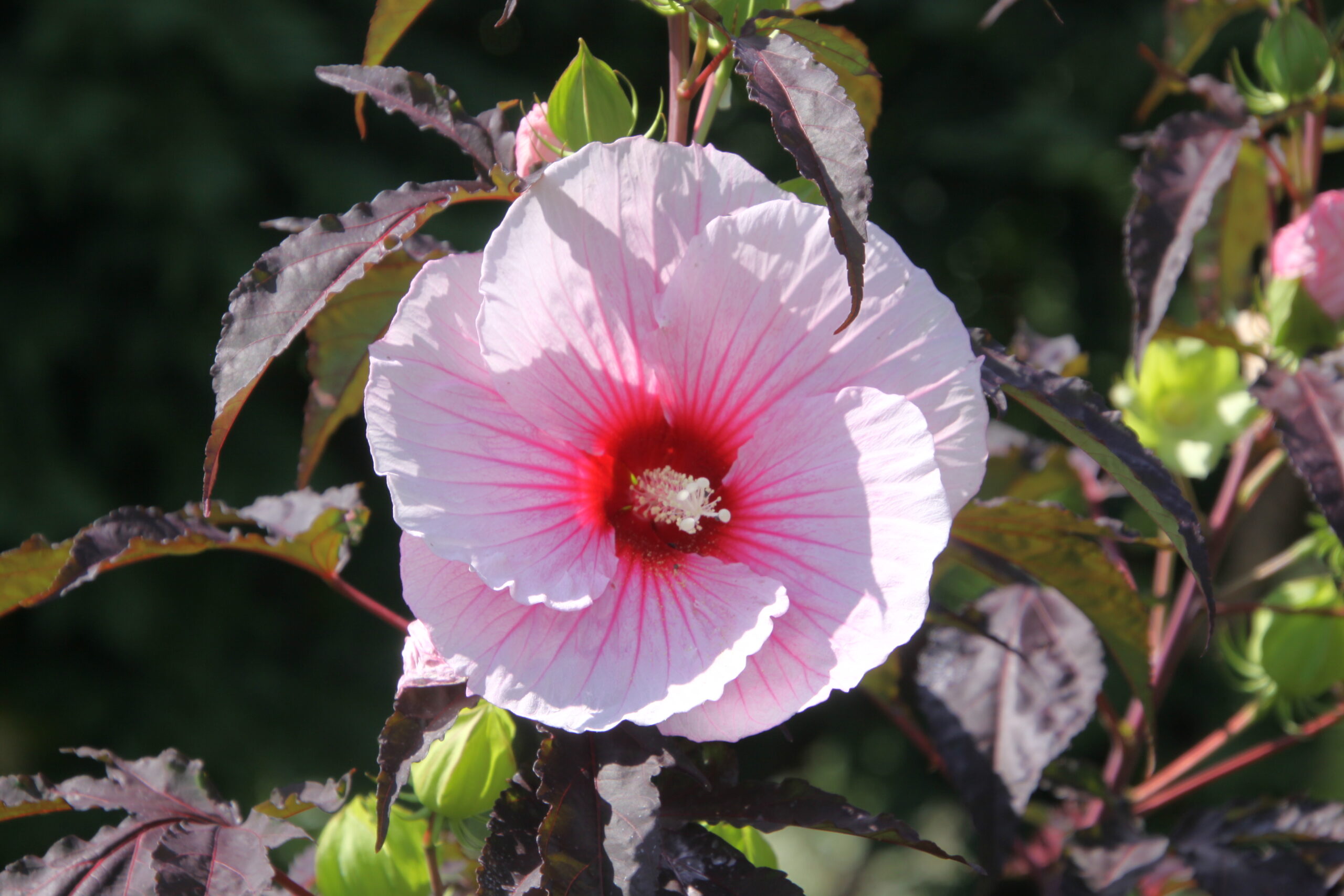 Eye-catching hibiscus blooms are happening now at the Arboretum in the North Terrace and Oasis Gardens, including hybrid hardy hibiscus varieties (such as Hibiscus 'Midnight Marvel' and Hibiscus 'Berry Awesome' SUMMERIFIC®) and rose-of-Sharon (such as Hibiscus syriacus 'Notwoodtwo' White Chiffon™). These are great floriferous specimens if you are looking to extend the summer feel in your garden into the early autumn months.
Hardy hibiscuses are erect, woody-based perennials that typically grow 4 to 8 feet tall. These hybrid species are winter hardy (typically to USDA zone 4 or 5) and produce spectacular blooms from mid-summer to early fall. Their disc-shaped flowers can reach upwards of 10 inches in diameter and feature five flat, showy, overlapping petals in a variety of bold colors. Some highlights from the Arboretum's collection include Hibiscus 'Midnight Marvel,' which features carmine-red blooms, and Hibiscus 'Summer Storm' SUMMERIFIC® (pictured above) that has deep purple foliage and produces pink-blushed flowers with dark rose stripes and a deep-red central eye. Most species also feature a pale-yellow, tubular staminal column in the center of each bloom. Though individual flowers remain in bloom for only one day, each plant typically produces up to 250 flowers that bloom in succession every growing season. These hardy perennials will die back in late fall and new foliage will typically emerge in late spring. Pruning is encouraged after a hard frost leaving about 6 inches of the stems exposed, so you don't lose track of your plantings!
The rose-of-Sharon is a vase-shaped, multi-stemmed deciduous shrub that reaches heights of 8 to 12 feet tall. This species of hibiscus, specifically Hibiscus syriacus 'Notwoodtwo' White Chiffon™, presents semi-double, pure-white flowers with a prominent center staminal column. This cultivar can be found in the North Terrace and will flower continuously from mid-summer to fall. Be sure to visit the Oasis Garden and North Terrace and immerse yourself in a tropical oasis.
Hydrangea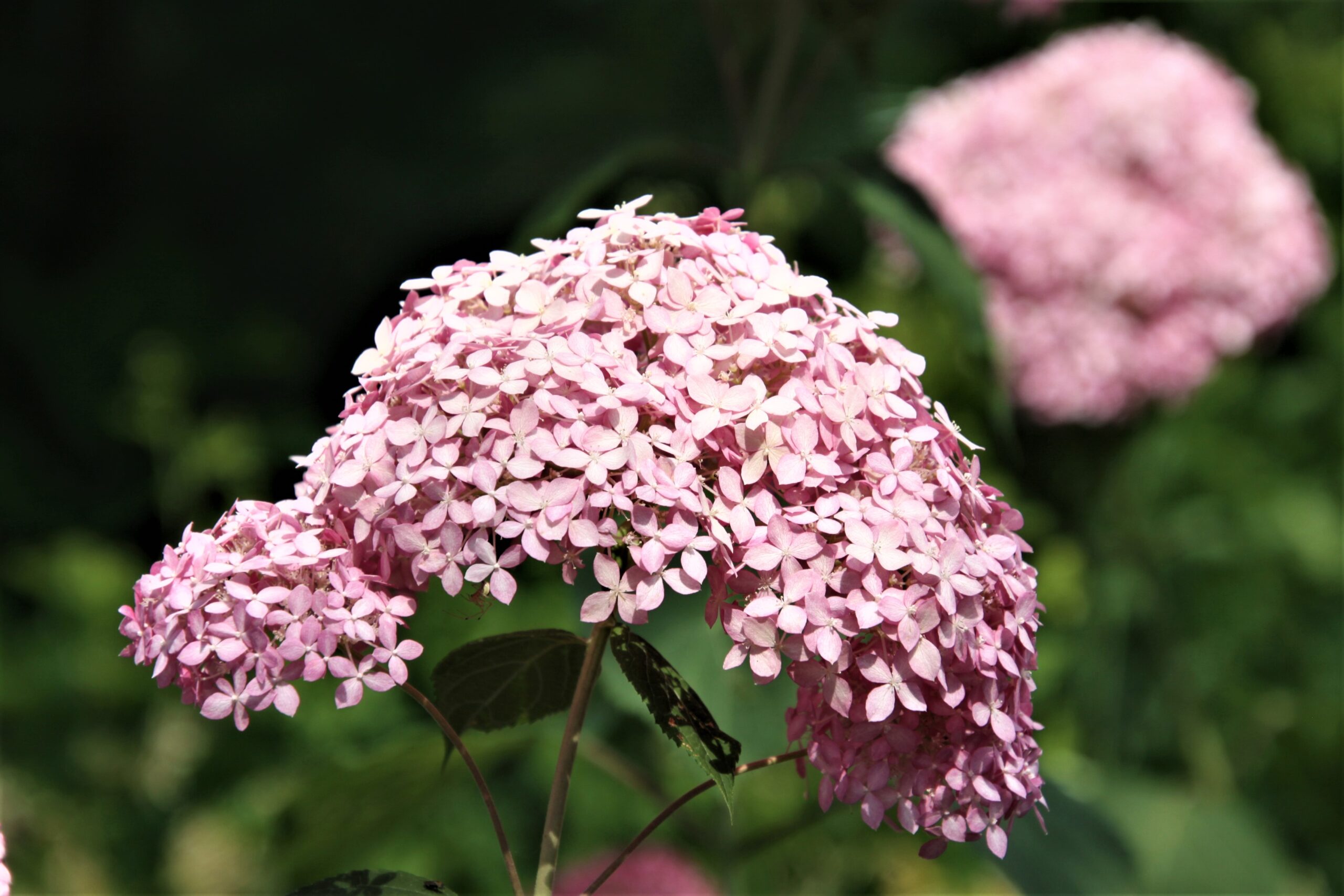 Hydrangeas are currently putting on a show out in the gardens! Our collection features more than 20 different varieties, including climbing hydrangea (such as Hydrangea anomala subsp. petiolaris), wild hydrangea (such as Hydrangea arborescens 'Annabelle'), panicle hydrangea (such as Hydrangea paniculata 'Bulk' Quick Fire®), oakleaf hydrangea (such as Hydrangea quercifolia 'Alice'), and silverleaf hydrangea (such as Hydrangea radiata 'Samantha').
The climbing hydrangea, featured around the Overlook Pavilion, is a sprawling, deciduous, woody vine that can reach upwards of 50 feet tall when provided with adequate support. This species has fragrant white flowers arranged in flat-topped clusters that bloom in late spring to early summer, making it one of the earliest blooming hydrangeas in our collection.
You can find many cultivated varieties of wild hydrangeas in the Childhood's Gate Children's Garden, Pollinator and Bird Garden, Rose and Fragrance Garden, and Strolling Gardens (see Hydrangea arborescens 'Ncha1' Invincibelle® Spirit pictured above). These deciduous shrubs typically grow 3 to 6 feet tall and feature sharply toothed, dark green leaves with pale undersides. Tiny flowers, ranging in color from white to pink, appear in flattened clusters and may bloom from May to late September.
Panicle hydrangeas are upright, rapid-growing deciduous shrubs that typically grow 6 to 8 feet tall. Terminal flower panicles bloom from mid-summer into fall, emerging white and then maturing to dark pink. These hydrangeas can be found in the Strolling Gardens, Marsh Meadow, Overlook Pavilion, and other gardens.
Oakleaf hydrangea blooms are unique in their pyramidal panicles that often grow 10 to 14 inches long. These stunning hydrangeas with oak-shaped leaves are featured in many areas of the garden including the Pollinator and Bird Garden, Oasis Garden, Strolling Garden, and others. The specific epithet quercifolia, refers to the leaves of this species which resemble those of the genus Quercus (oak sp.).
Lastly, silverleaf hydrangeas can be found around the Overlook Pavilion and in the Rose and Fragrance Garden, with white flowers blooming late June to mid-July. This species displays fantastic foliage in high summer, highlighting dark green leaves with silvery undersides, hence the common name silverleaf hydrangea. This species has a narrow natural range in North America, limited to just a few southern states in the Appalachian region.