The Arboretum at Penn State Transitions to Penn State Outreach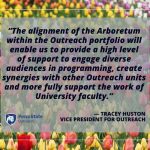 On July 1, 2021, the Arboretum officially became part of Penn State Outreach, opening up opportunities to develop new partnerships as we continue to grow. We look forward to being part of the Outreach team.

Visiting the Arboretum – COVID-19 Safety Requirements
The H.O. Smith Botanic Gardens may be visited from dawn until dusk. Arboretum visitors must follow University COVID-19 safety requirements. Masks are required indoors for unvaccinated visitors on campus. By attending or participating in Arboretum programs, events, or activities, visitors agree to adhere to Penn State's guidance and policies, acknowledge the risk of being exposed to or infected by COVID-19, and assume any and all such risk.
COVID Acknowledgment Policy Statement
Parking
Visitor parking is available in the Lewis Katz Building lot, just across Bigler Road from the old Arboretum lot.
To park in the Katz lot, Arboretum visitors who do not hold a Penn State parking permit that is valid in an Orange lot must pay a fee of $1/hour. Payment may be made via the pay station in the Katz Building lot via credit card, or via the ParkMobile app, which is also available for use in many other parking lots on campus. Visitors may download the ParkMobile app or visit ParkMobile's Penn State site to learn more. Parking fees apply 24 hours a day, 7 days a week.
Additional details are available on our Visitor Information page.
Arboretum Named A "Great Place in Pennsylvania" in 2020
The Arboretum at Penn State was recently honored as one of three "Great Places in Pennsylvania for 2020" by the American Planning Association. The nomination was made by the College Township Planning Commission because the Arboretum is "truly a great place that perfectly blends science and aesthetics." Our thanks to all who help to support and maintain our great public space.
https://tinyurl.com/y2tj4kex
Spring Photo Contest Winners 
Thank you to everyone who submitted an entry in the Spring Photo Contest. The winners are listed below. To view the winning entries, click on Seasonal Images on our home page.
1st Place (tie) – Susan Croyle / Chuck Fong
2nd Place – Ruth Merritt
3rd Place – Liina Eek
For the summer contest, you may submit a photo taken this summer or during a previous summer in the Arboretum (one entry per person, please). Submissions will be accepted via email, Facebook, Instagram, or Twitter until August 31. Be sure to read the contest rules:
New Pollinator and Bird Garden Now Open 
This new garden space, which increases the acreage of developed gardens by over 60%, is unique in its ambitious design and intent: to attract all of our region's insect pollinator species and the broadest range of resident and migratory birds.
The planting design showcases over 390 unique plant species and varieties—most of which are native to Pennsylvania or the greater Appalachian region. Ecological diversity has been encouraged by incorporating habitats such as a pond, wetlands, woodland, and dry meadow.
You can take a look at scenes in the new garden at https://news.psu.edu/gallery/662838/2021/06/30/welcome-new-pollinator-and-bird-garden.
To accomplish our goals for the new garden, the Arboretum worked with a large team of Penn State-based and outside experts, including Penn State's Center for Pollinator Research and faculty, staff, and community members of the Arboretum's Avian Education Advisory Committee.
Construction of the Pollinator and Bird Garden was funded entirely through philanthropy. Nearly 500 individual donors contributed financial gifts toward the project.
Over the course of construction, over 620 people volunteered to help us install the vast majority of the 143,000 plants in the garden. Read about community involvement in planting the Pollinator and Bird Garden at http://bit.ly/3ctDUmr.
"Garden Wonderings" Videos 
Garden Wonderings is an informal educational video series that we have put together during the COVID-19 pandemic to entertain and inform the public during these unusual times. You can access the playlist of all Arboretum educational videos at https://tinyurl.com/yywegr7f.
Upcoming Activities
Read about activities in Childhood's Gate Children's Garden. No registration required.
2021 July Children's Garden Calendar
Arboretum Newsletters
2021 Spring Arboretum Newsletter
Featured at the top of the page is an early June scene in the Oasis Garden.